YARN CHARACTERISTICS
---
BiPlex MY is a two fibre product, extruded to 12,000 and 5,500 dtex respectively. BiPlex MY combines the Max monofilament yarn, made with C8 polymer, with a YEII strengthened fibrillated yarn, maximising its functions and strengths. Max yarn is a crinkle shaped fibre, encouraging "springback" when the fibre is flattened, making it exceptionally resilient, whilst the YEII yarn spreads, to help contain infill splash.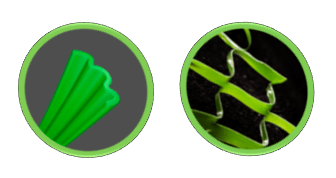 ---
PLAY CHARACTERISTICS
---
BiPlex MY synthetic turf is a unique surface designed for both football and rugby, which offers superior play characteristics. Designed to work with or without a performance shock pad, BiPlex MY is created to meet FIFA Quality Pro and World Rugby standards.
A BiPlex MY synthetic turf pitch is infilled with a base layer of sand and a performance layer of SBR, or natural infills, such as cork.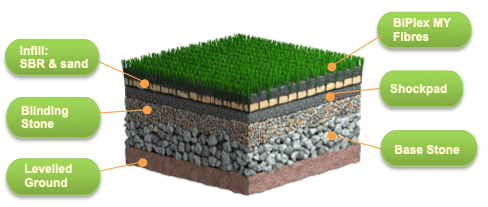 ---
ACCREDITATION
---
CCGrass is a FIFA and World Rugby Preferred Producer with the BiPlex MY system tested to FIFA Quality, FIFA Quality Pro and World Rugby standards.