The right pad for the right sport
There are several different types of shock pads used underneath artificial grass, and these give differing performances, so, in most cases, are sports specific.
For example, with hockey, the pad must be firm, very even and provide a relatively dead ball bounce.
In contrast, rugby requires a pad that absorbs heavy impact, yet isn't too soft that it saps energy from the legs of players.
The challenge for football is the extent the shock pad contributes to the overall system.
Shock pads can be divided into two categories – factory produced and made on site. Each category has a variety of options.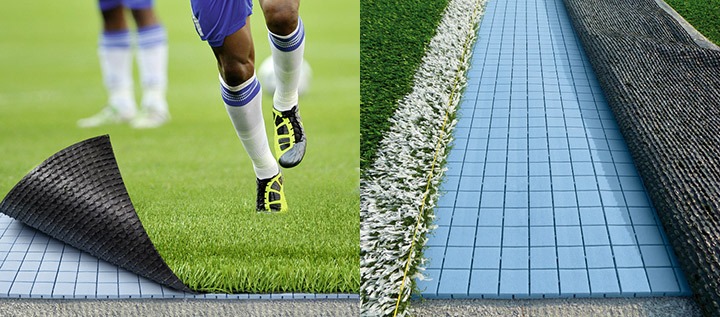 Factory Produced:
The real benefit here is that the thickness, the density and integrity of the pad is controlled to ensure absolute uniformity of performance. There are different materials used – PE foam, PU foam and expanded PP beads, as well as recycled rubber. These are produced in thicknesses ranging from 8mm to 55mm, although the latter thickness can also be considered as part base construction.
Pads made from PE foam tend to be produced in rolls, with slits applied for drainage and are very light. PU foam pads are much heavier, absorb water and are less susceptible to windy conditions. Both work well under football and hockey turf, but thicker versions are needed to meet rugby requirements.
A popular system, also using waste PE foam is made into panels, that are laid as a jigsaw. This type of system is good under football and rugby, whereas under short pile hockey surfaces, may be a little too soft and uneven.
By far the best performing type of pad for rugby uses moulded EPP panels. They are easy to install and with added drainage qualities, the pad absorbs energy whilst staying firm. This type of pad can also reduce the depth of base stone required, due to its greater stability and thickness. It makes an excellent performance pad for football, but not so for hockey.
Most factory made pads come with long warrantees, and should perform easily for at least two surface lives.
Insitu pads:
These are favoured by companies that prefer to make their own pads, and are very popular in Germany and the UK sports markets. Made from small chunks of recycled rubber tyre bound with resin, the slimmest version, between 15 -18mm, is great for hockey, when laid onto a bound base, whilst thicker versions, from 20mm to 25mm are good for hockey and work well under shorter pile football surfaces and rugby systems, when laid on unbound bases. The real heavyweight pad dominates the German market, combining small stones with the rubber granules, at a thickness of 35mm.
Poor insitu type pads may need replacing when the first turf is removed. This is costly and unnecessary. Better pads, with a good resin percentage will last for the second pitch and even into a third surface life, proving a good long term investment. A common concern is that pads laid on site can cover poor base levels, and it has been known for pads to vary in thickness by up to 50%, giving a much more variable performance than a factory made pad. This means that warranties are much shorter.
Panels:
Whilst not quite a shockpad, recycled plastic panels also offer some added sports performance, and can work well under football turf. These have the benefit of being part of the construction system, with excellent water storage capacity between the panels and the base, can be used permanently or in temporary situations, and come with a long warranty.
Making the right choice:
Most manufacturers will have systems tested with their preferred pad system. Ask to see the test results, and try and visit an installation that uses that type of pad. You may be offered a pad only because the contractor or consultant prefers that type, but make sure it is right for your usage.
You don't see the shock pad under the synthetic turf, but players will know when there is a pad in the system, due to the improved feel and performance. So, making the right choice is one of the most important decisions you will make with your pitch, yet is often overlooked.
For more information on different types of pad or manufacturers
please get in touch.
support@ccgrassuk.com